Recently, I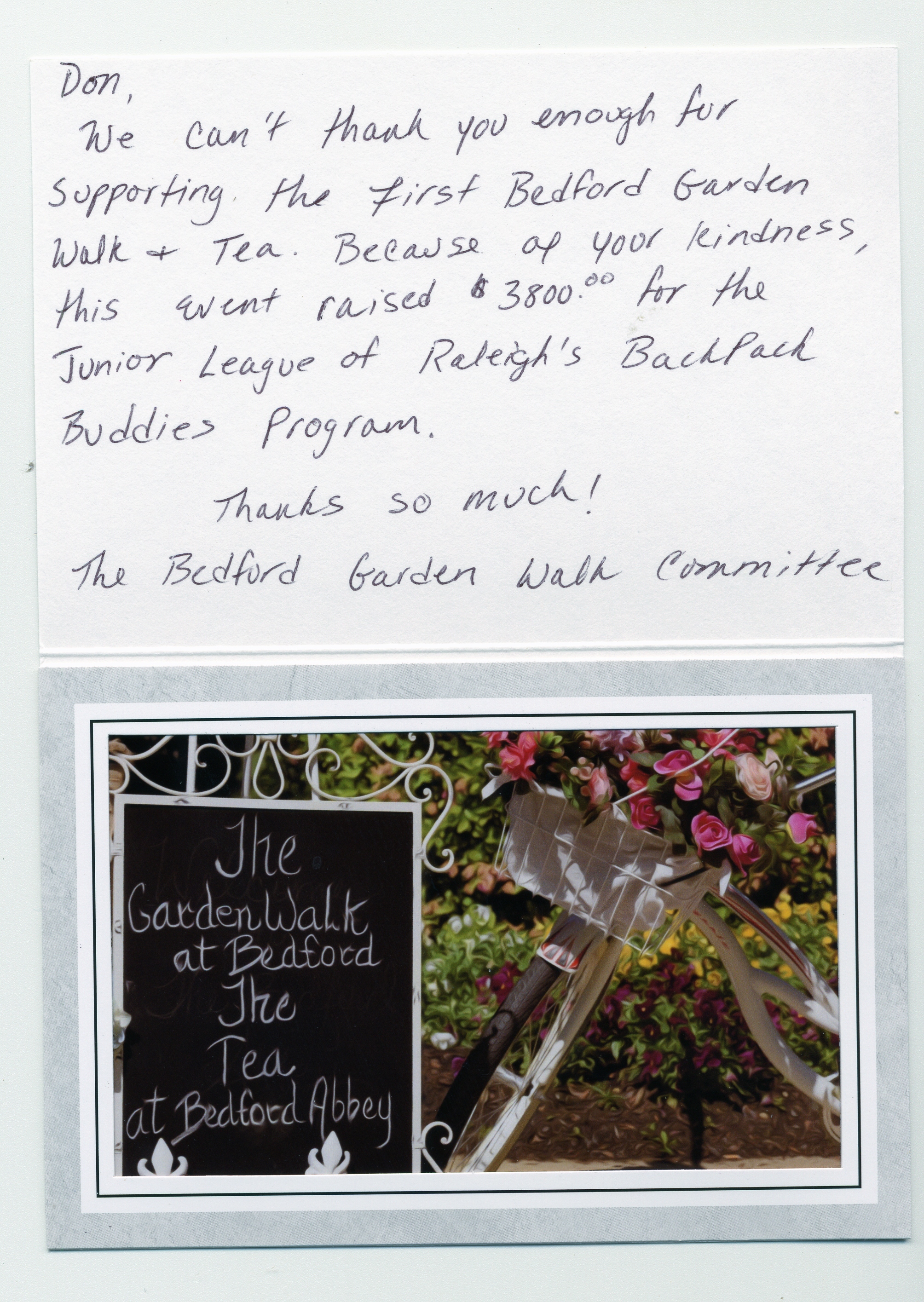 was asked to speak as Mark Twain at the Bedford Abbey event held at the clubhouse in the Bedford  neighborhood in Raleigh.  This event was held to benefit the Backpack Buddies Program.
This was the first time I have spoken at a "Tea" and it was a perfect fit for Mark Twain storytelling.  Bedford Abbey was, of course, inspired by the very popular series Downton Abbey and I was amazed at the elegance with which the room and all the tables were decorated.  Each table had a theme of its own, including AnEvening in Paris, Carolina Coast, Woodland Fairy Enchantment, and 6 others.
The 80 or so attendees at the tea were mostly ladies dressed to fit the theme, with beautiful dresses and their most elegant hats.  I stood out like a  sore thumb in my white linen suit and blue cravat.  My cravat was made just for my use as a Mark Twain storyteller by Laura Rogers, owner of Mom Said Sew. It's a one of a kind and I always get compliments when I wear it to a speaking engagement.
I spoke for about 50 minutes, plenty of time to tell most of my favorite stories.  My favorite story is the one about the time Twain sold a dog that didn't belong to him. Twain needed $3 and he needed it badly.  A dog approached him in a hotel lobby and they became instant friends.  Then, General Miles happened to see the dog and offered to buy him. Twain was able to get the $3 he needed. For the rest of the story, you can either attend one of my storytelling lectures or you can go right to the source and read Twain's  collection of speeches. I can promise you, that the ending will not be what you expected!  I also droned on about my health issues like Twain did when he lectured. He insisted that we all need bad habits, so that we can moderate them during times of need.
After I finished, several women asked to get a picture taken with me, which caused my wife to roll her eyes even more than usual.  One young woman, about 12 or so asked for my autograph. My wife missed that. She might have dislocated her eyes on that one!
I was very lucky to attend this event and to speak as Mark Twain. Cindy Reddish, Leila Pacifico and the other committee members did a wonderful job creating this event and doing all the hard work and planning.  I hate to sound sexist, but I have never met a man who could have taken care of all the details necessary to make this event so successful.  They had an orchestra composed of young people from Wake Forest who provided great background music for everyone. When I finished speaking, there was still plenty of food left and I was able to enjoy that also. How lucky am I?
Don McNeill