I was born modest, but it wore off! . . . Mark Twain
I have gone where no other Mark Twain scholar has gone before. When I was a student at the University of Missouri/St. Louis, we often discussed whether or not Mark Twain would be as funny for the modern audience as he was when speaking in the 19th century.
I have the answer!
Although there are plenty of pictures of Mr. Twain, there are no existing recordings of his voice. However, the stories he told are still available. I tell those stories as I imagine Mr. Twain would have told them.
In addition to using Mr. Twain's original material, I have written and delivered Mark Twain "inspired" stories.  The positive response from all groups and ages has been surprising even to me. Mr. Twain's unusual brand of storytelling and pregnant pauses still delight listeners today.
---
[one_third]
Meet Don McNeill . . .

[/one_third]
[one_third]
Sample Mark Twain . . .
[/one_third]
[one_third_last]
Out And About . . .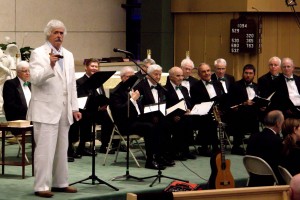 [/one_third_last]
---
Come hear Mark Twain tell about his experiences in the Holy Land and a lecture on "morality."
He will be speaking at Congregation Sha'arei Israel, Sunday, May 5 at 3 p.m. Tickets are $12 and available at https://marktwainspeaks.eventbrite.com
Take the time to listen to my Twain-style humorous speech titled 'The Key to Success"  and I am sure you will agree with me.
While the words and story are mine, the style of speaking and the use of pauses are inspired by the greatest of all humorous speakers, Mark Twain. I am confident that most of my fellow Twain scholars will agree that my speech proves the point!
Don had a recent article as Mark Twain published in the Raleigh News & Observer. 
Contact me at don@marktwainspeaks.com or 919-522-4068 to schedule a performance.
Don McNeill